2021 GMC SIERRA 1500 in High Level, AB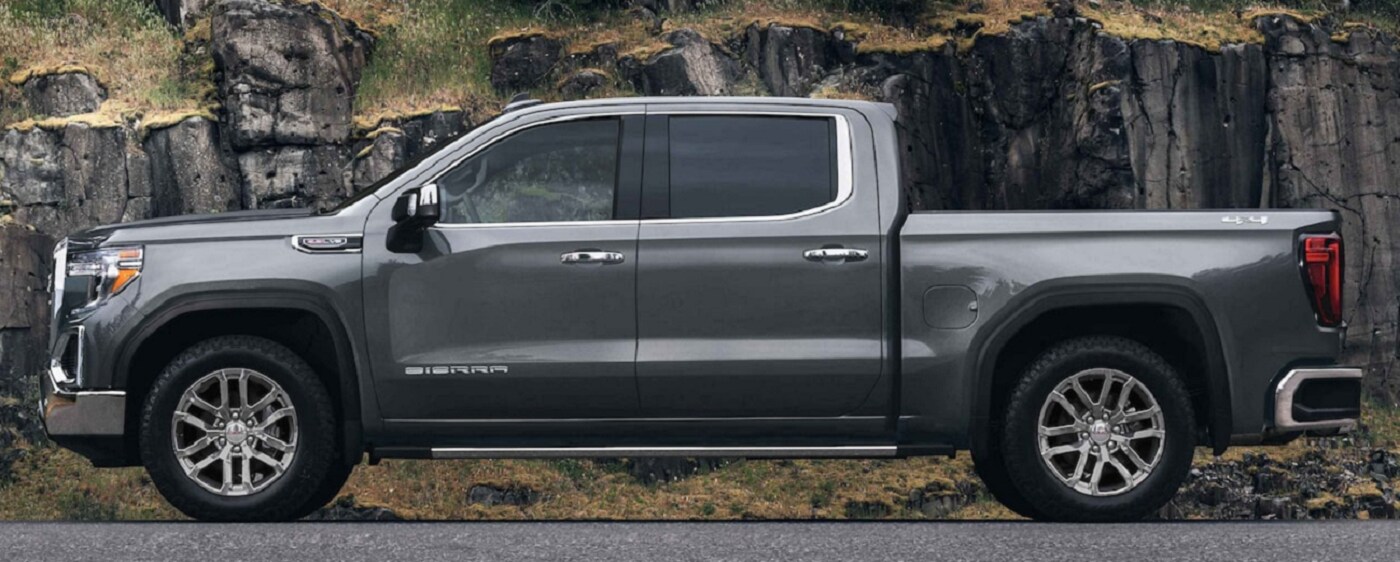 2021 GMC Sierra 1500 Overview
With many impressive qualities and capabilities, the 2021 GMC Sierra 1500 stands out among light-duty trucks. The 2021 GMC Sierra 1500 in High Level has highlights that make it a superior choice compared to its competitors, including the first-ever tailgate with six different functions. The 2021 Sierra 1500 also has greater cargo bed volume than its competition, and its diesel engine provides class-leading horsepower. Safety technology also is supreme in the Sierra 1500, one of the safest vehicles in its category.
2021 GMC Sierra 1500 Exterior Features
The 2021 GMC Sierra 1500 has an exterior design that is both attractive and functional. With the GMC Sierra 1500 comes a composite bed made of carbon fibre to shed excess weight while providing practical use. In addition, the truck comes with large mirrors for safety and panoramic visibility, and the AT4 trim level comes with a unique off-road variant with a factory-installed lift. At all trim levels, the light-duty truck has LED headlights with a distinctive C-shape design. Chrome and black exterior accents come added to dress up the truck beginning with the second trim level, which also has the multi-function tailgate.
2021 GMC Sierra 1500 Interior Features
The 2021GMC Sierra 1500 catches your eye with its impressive exterior, but the cabin has just as much to offer. The GMC 1500 can quickly get you through the workday and beyond from comfort to safety and connectivity. 1500 has plenty of room for all with its class-leading volume in the cab, including "Best-in-Class" legroom and headroom. The truck also has heated seats, and it has soft leather upholstery beginning with the SLT trim level. Premium upholstery with a performance-oriented design comes with the second trim.
2021 GMC Sierra 1500 Exterior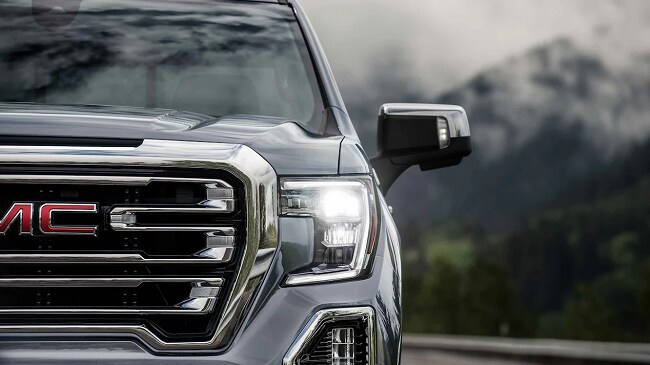 2021 GMC Sierra 1500 Interior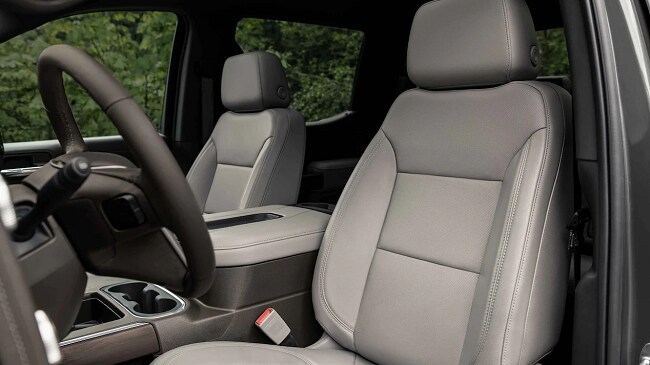 2021 GMC Sierra 1500 Capability
With the GMC Sierra 1500, you'll have a few different options for performance and power. The light-duty truck has exceptional towing capabilities across the spectrum, with maximum tow ratings ranging from 7,900 pounds to 11,800 pounds, depending on the engine and mechanical system you get. Fuel economy ranges from 7.8L/100km to 1 L/100km on the highway based on whether you choose the gasoline or diesel engine. Select trims can come configured with a 3.0-litre turbocharged diesel engine and a 10-speed transmission. GMC offers the same transmission with a 6.2L V8 gasoline engine as well. In addition, the four-wheel drive comes included on certain trims.
2021 GMC Sierra 1500 Technology and Safety
An infotainment system is standard on the 2021 GMC Sierra 1500 that provides the driver with critical information, including speed, fuel economy, and safety alerts. Navigation also comes included on select trim levels as well. The infotainment system provides app support with Android Auto and Apple CarPlay. It also offers easy access to the audio controls. In addition, you can use the infotainment system for hands-free text messages and phone call support. The Sierra has various safety amenities, including an optional rearview mirror with a camera and a head-up display for the infotainment system. Trailering and reversing are safer than ever with a camera that has up to 15 different available views. A trailering system is available on any trim of the GMC Sierra 1500, and you will also get a unique trailering app for more precise performance and trailering control.
Contact Us at High-Level Motors
If you are interested in learning more about the 2021 GMC Sierra 1500 in High Level, we invite you to contact High-Level Motors today. We can provide all the information that you need about the Sierra depending on your goals and needs for owning a truck. Ask our staff any questions about the GMC Sierra 1500 and its capabilities; you can browse our new inventory for 1500 to look at the trim levels in stock. Our inventory is available to preview online, and you can also call to ask about the current selection. If you're ready to take the following steps in purchasing a car, our dealership can also provide pricing and payment details.
2021 GMC Sierra 1500 IN HIGH LEVEL, AB